From the Executive Director
Wally Curran marks Winship milestones.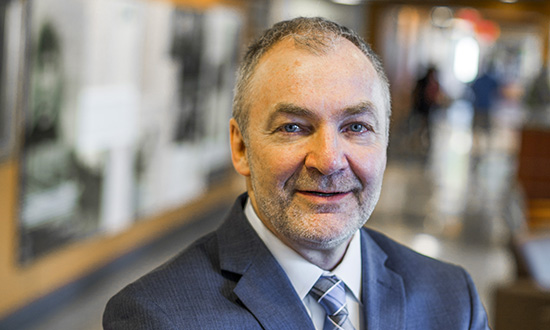 This special issue of Winship Magazine celebrates two very significant Winship events. In May 2017, Winship was awarded the National Cancer Institute (NCI)'s prestigious comprehensive cancer center designation as a part of our competitive cancer center support grant renewal process. This was the culmination of years of attention to strengthening and linking our laboratory research, clinical trials program, population-based science, and education programs. This NCI comprehensive cancer center designation signifies that outside experts understand very clearly that Winship's outstanding research is lessening the cancer burden for all of Georgia.
Winship has incredible teamwork fueling our comprehensive approach to cancer. I see this teamwork in the strength and diversity of our clinical trials, in the ingenuity and innovation behind our scientific findings, and in the dedication and passion in our classrooms and training programs. As an example, Winship's growing team of lung cancer investigators and caregivers are key architects of the transformative progress the world has witnessed in the past decade against the deadliest of all cancers. Thanks to amazing work at Winship and at our partner organizations, lung cancer patients today have far more hope and opportunity for longer term and better quality survival than ever before.
We are also celebrating the 80th anniversary of the founding of Winship Cancer Institute. In 1937, Robert Winship Woodruff, then president of The Coca-Cola Company, gave a generous gift to Emory University to start the Robert Winship Memorial Clinic. Having lost his mother to cancer, Mr. Woodruff was determined to bring the best cancer care possible to Georgia. This year, we are honoring 80 individuals and groups who have embodied the mission of Winship over the past eight decades; The Winship 80 includes scientists, patients, volunteers, philanthropists, community leaders, and caregivers. This issue of Winship magazine features a selection of the nominees; all nominees will be posted online over the next six weeks. Finally, we want to mark the tragic passing of one of our own, Hanna Jean Khoury, director of Winship's Hematology Division and an international leader against chronic myeloid leukemia, acute leukemia, and myelodysplastic syndrome. Jean was an outstanding physician, researcher, and educator and an extraordinary and beloved member of the Winship and Emory communities.
Please join us as we celebrate these milestones and all those whose lives are touched by cancer. ~Wally Curran