Winship 80: Honorees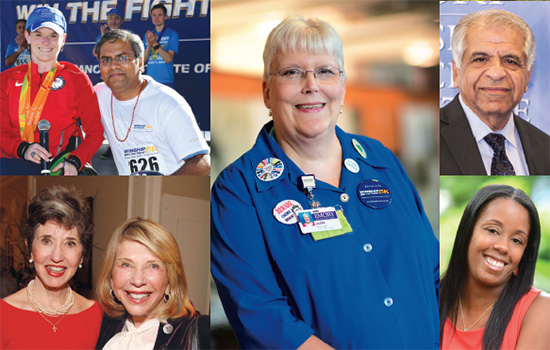 The Winship 80 recognizes individuals who have helped Winship achieve world-class status. Below are some of the people and organizations who have helped make Winship what it is today.
For full Winship 80 profiles go to winshipcancer.emory.edu/winship-80.
---
The Glenn family
| | |
| --- | --- |
| The Glenns (left to right): Louisa Glenn D'Antignac, Tom Glenn, Lou Glenn, Rand Glenn Hagen. | |
The Glenn family has been a steadfast supporter of Winship for many years, from chairing fundraising events to directing major donations from their family foundation for the creation of a center focused on breast cancer research and care. The Glenn Family Breast Center, Winship's first named center for a specific type of cancer, was established in 2013 through gifts from the Wilbur and Hilda Glenn Family Foundation.
The Glenn Family Breast Center is dedicated to elevating patient-centered breast cancer care through support of basic and translational research, clinical trials, and tissue banking.
"We have experienced the uncertainty of this disease, and Winship helped our family fight back with excellent care at the forefront of medical advances," says Lou Glenn, foundation trustee and founding member of the Winship Advisory Board.
"While our gifts target breast cancer, we hope that others will invest in Winship's research and exceptional care for all types of cancer so many more families can be helped."
The Glenn Family Foundation also established the Louisa and Rand Glenn Family Chair in Breast Cancer Research, held by Mylin Torres, who serves as the director of the Glenn Family Breast Center.
---
Julie Whitehead
Julie Whitehead has logged close to 1,500 volunteer hours at Winship. Inspired to volunteer following her own cancer treatment, she says, "Some of the most helpful individuals were those who had been through treatment themselves. They helped me get through the scary unknown. Their strength showed me that I too could be a survivor."
---
Winship Advisory Board
| | |
| --- | --- |
| | |
"I'm not going to cure cancer but I do what I can to support the people who will," says Leslie Wierman (right), chair of the Winship Advisory Board. It's a sentiment shared by her 59 fellow board members. All have been touched in some way by cancer. "We are extremely dedicated to Winship and willing to put our time, talent, and resources behind it," says Wierman. The Winship Advisory Board was launched in 2006 in order to coalesce a group of people who were contributing individually to Winship through donations and volunteer work. John H. Kauffman (left), community leader, president of Kauffman Tire, and tireless Winship advocate, was the inaugural chair. Other past board chairs include Bob Meier and Billy Levine (center). When Levine took on the leadership in 2014, he brought more structure to the group by focusing on key areas of fundraising, enhancing the patient experience, and boosting Winship's recognition. "I'm really proud of the fact that people on the Board feel like they're doing something meaningful," says Levine. Wierman and her fellow board members continue to work at extending their impact. "We are all ambassadors in the community," she says.
---
Cassie Mitchell
A biomedical engineer, Paralympian, and cancer patient, Cassie Mitchell touches many lives at Winship and Emory. Diagnosed with chronic myeloid leukemia in 2016 and laid low by severe side effects from chemotherapy, Mitchell nevertheless competed in the 2016 USA Paralympics in Rio De Janeiro and came home with silver and bronze medals. Her doctor, Winship hematologist Vamsi Kota, supported her throughout. In thanks to Winship, Mitchell handed out medals at the 2016 Winship Win the Fight 5K and presented Kota with the gift of her official USA Olympic cap.
---
Jim and Sarah Kennedy
Acting on life-long commitments to improve the community, Sarah and Jim Kennedy have been transformative forces at Emory University.
Chairman of media giant Cox Enterprises, Jim Kennedy is also chairman of the James M. Cox Foundation, named in honor of his grandfather and founder of Cox Enterprises. The Kennedys made an initial, personal gift to Winship to support five priority areas: recruitment of faculty researchers, seed grants for scientific research, investigator-initiated clinical trials, development of the survivorship program, and mentoring of young physicians and investigators. This gift came at a critical time for Winship and helped grow the faculty, support innovative projects, and foster collaboration among investigators.
Jim Kennedy's experience as a patient at Emory motivated a recent gift to launch a new patient-centered model designed to improve patient experiences and outcomes, with prostate cancer care as the initial clinical focus. The initiative accelerates efforts under way within Emory to create more streamlined and reliable care for patients and families. The gift also created two endowed chairs for physician leaders focusing on change initiatives and research to improve patient care.
In making the gift, Jim Kennedy said, "We believe Emory can serve as a national model for improved health care delivery."
In 2011, Sarah and Jim Kennedy provided support for Emory's Alzheimer's Disease Research Center for clinical trials and associated research studies for treatment of Alzheimer's disease, chairing its "A Family Affair" event benefitting the Center in 2013. The Kennedys have also supported Emory's Center for Maternal Substance Abuse and Child Development and Emory's Brain Health Center.
---
The Rollins Family
The O. Wayne Rollins Foundation, created in 1967 by family patriarch O. Wayne Rollins and his wife Grace Rollins (pictured here), has provided support throughout Emory, including two endowed chairs at Winship: the R. Randall Rollins Chair in Oncology and the Margaret H. Rollins Chair in Cancer.
---
Team Dave
When Dave Edwards (right) was diagnosed with stage IV melanoma in 2005, he decided to do everything his Winship doctors suggested. Twelve years after his diagnosis, Edwards is a regular at Winship. He and his many friends, family, and supporters have become a vital part of the annual Winship 5K, running under the banner of Team Dave. "Team Dave is not just a team that runs the Winship 5K," says daughter Kelly Edwards, "it's a group of supportive, fun, silly, and loving people who want something positive to happen to everyone who's fighting this unwanted fight. Go Team Dave!"
---
Tom Reynolds
Tom Reynolds, who passed away in October 2016, was a devoted advocate for Winship in the community and made a tangible difference in his volunteerism and philanthropy for the cause of cancer research.
A long-time cancer survivor himself, Reynolds lost his beloved wife, Patricia, to sarcoma in 2005. With his children, Reynolds established the Patricia R. Reynolds Endowment for Sarcoma Research in memory of his wife and remained steadfast in support for this rarer form of cancer. The Reynolds children —Ann Crouse, Rick Reynolds, and the late Tim Reynolds—followed their father's lead and have been active supporters of both sarcoma research and breast cancer research at Winship.
When the Winship Win the Fight 5K was just getting started, Reynolds enthusiastically signed on his company, Peach State Truck Centers, as one of the original and largest corporate sponsors and also made Peach State an original patron of the Winship Gala.
---
Brenda Nease
Brenda Nease is perhaps most often recognized as the woman who plays the piano in the Winship lobby on Thursday afternoons. The baby grand came about from a gift made to Winship in her honor, but music is only one of Nease's many contributions to Winship.
As a cancer survivor, Nease brings personal experience to her commitment both to cancer research and to improving the individual patient experience. She commissioned a painting that hangs in a Winship waiting area and funded the refurbishment of Winship's Purdom Chapel, dedicated to the memory of her son, Lawton McDonald Nease IV, who passed away from non-Hodgkin lymphoma. Her on-going commitments include serving on the Winship Advisory Board, helping fund an annual Melanoma Symposium, and the establishment of the Brenda Nease Breast Cancer Research Fund.
"This fund is not about me," Nease says, "it is about the people who will benefit. It is about the desire to help others in the same situation I was in after my diagnosis. If I can improve any part of this experience for patients, that is my calling."
"Mrs. Nease faced cancer in her own life with grace and courage," says medical oncologist David Lawson. "It is very gratifying to see the difference she makes for others through her gifts."
---
Ivory Cloud
By day, Ivory Cloud teaches prekindergarten for children with special needs. By night, during weekends, and in any spare moments in between, you can find her coordinating events for kids with cancer and kids who have lost a parent to cancer. With the help of her husband and daughters, Cloud has held Mother's Day tea parties and pajama parties at Children's Healthcare of Atlanta, and she advocates for young women to get preventive care if their mothers died of breast cancer.
"My mom, Lois Marie Heckstall, passed away from breast cancer on Mother's Day when I was nine," says Cloud. "She passed away so young she couldn't fulfill all her dreams. Now I want to help other people fulfill their dreams as a way of making sure my mom's legacy is out there."
---
Friends of Winship
When a group of 10 women came together in 2011, they knew they all shared a deep appreciation for the care that either they or their loved ones received at Winship. They wanted to raise awareness about Winship's research and patient care, help educate the public about cancer, raise funds for cancer research, and enhance the patient experience.
Now, more than 330 men and women make up the Friends of Winship and the group has raised millions of dollars to support research through events, including a gala and an annual fashion show. They put on patient events like popsicle give-aways and they host lunch-and-learns with doctors and researchers who share the latest information about cancer and treatment options.
"Our volunteers are passionate about Winship," says Marietta Petters, a founding member of Friends, "because most of them have been touched by cancer in some way."
"Winship gives people hope," says Kathy Bowman, another founding member. "You get so excited about what these doctors and researchers are discovering. That inspires us."
---
Lory Macrate and Ed Steinman
"I became a patient involuntarily, but my husband chose to become a dedicated Winship volunteer," says Lory Macrate. When Lory was diagnosed with multiple myeloma in 2011, her husband, Ed Steinman, decided to do whatever he could to support her. Now that his wife's health has stabilized, Ed is a passionate member of the Winship Advisory Board and the Patient and Family Advisory Council, he does corporate fundraising for the Winship 5K and Winship Gala, and leads an ever-growing team of supporters at the Winship 5K.
---
Mary and John Brock
Mary and John Brock were introduced to Winship when John's mother, Anise McDaniel Brock, was diagnosed with cancer. As then chairman and CEO of Coca-Cola Enterprises, Brock had access to medical facilities across the country, but research led them to Winship. Although Anise Brock lost her battle with cancer, her experience bound the family to Winship.
As a Georgia Tech alumnus, John met with cancer researchers and physicians at Emory and Georgia Tech to discuss their research programs. The meetings led to the establishment of an endowed chair at Winship named in honor of John's mother, the Anise McDaniel Brock Chair in Cancer Innovation, in partnership with research scientists at both institutions.
Along with their philanthropic support, the Brocks continue their involvement through Mary Brock's role on the Winship Advisory Board and their personal support of special events. In 2012, Winship recognized the Brocks by naming them honorary chairs of the Winship Gala.
---
Kathelen and Dan Amos
The Aflac Cancer and Blood Disorders Center of Children's Healthcare of Atlanta (Children's) is recognized as one of the largest and most respected pediatric hematology/oncology programs in the United States. Staffed by pediatric oncologists and researchers who are Winship members, the Aflac Cancer Center cares for more than 450 newly diagnosed cancer patients each year and is a national leader in enrolling children in innovative therapeutic clinical trials.
The relationship between Children's and Aflac began more than 20 years ago when Kathelen and Dan Amos initiated the Aflac Foundation's groundbreaking charitable contribution.
Douglas Graham, director of the Aflac Cancer and Blood Disorders Center, Daniel P. Amos Chair, and Winship Executive Committee member, says "The generosity of the Amos family and the Aflac Foundation has allowed the Aflac Cancer Center to make great strides in research that will hopefully lead to a cure for pediatric cancer. We believe that every child deserves a lifetime, and we strive to make that a reality through our basic and translational research efforts."
---
Kenneth Anderson
When Winship decided to expand its multiple myeloma research and clinical treatment program, Kenneth Anderson didn't hesitate to offer his support to the fledgling program. Anderson, who runs the multiple myeloma center at Dana-Farber Cancer Institute in Boston, is an international leader in the field of myeloma and was mentor to Sagar Lonial, Winship chief medical officer, during his early training as a hematologist.
---
Chandra Belani
Chandra Belani made a lasting impression on Winship Deputy Director Suresh Ramalingam during his fellowship training 17 years ago at the University of Pittsburgh, and he continues to have a profound impact on both Ramalingam and Winship. Belani, now deputy director of the Penn State Hershey Cancer Institute, has been an invaluable advisor on building Winship's world class lung cancer program, says Ramalingam.
---
Joyce Wilson
Winship launched one of the first bone marrow and stem cell transplant programs in the country in 1979, and Joyce Wilson was one of its first patients. Wilson, from the Dalton, Georgia area, was only 23 and had a 2-year-old daughter when she was diagnosed with aplastic anemia. "My anemia had progressed to such a point that I wasn't given a lot of options. This was an option to save my life," said Wilson. Wilson came back to be part of Winship's celebration of its 5,000th transplant patient and reunite with her doctor, Winship hematologist Elliott Winton.
---