Building a New Phase I Unit
By Catherine Williams
All three phases of clinical trials testing are crucial to establish the safety and efficacy of new cancer therapies. But Phase I clinical trials, the first time a drug is tested in human beings, are the standing-on-the-high-diving-board moments of cancer research. It's the moment that scientific discovery tests its potential to help cancer patients, a moment that physician and clinician investigators, research staff, Phase I nurses, and support staff have trained for and anticipated.
"Working in Phase I trials keeps you on the cutting edge of oncology with the opportunity to impact current and future generations of patients," says Colleen Lewis, lead nurse practitioner of Winship's Phase I unit.
In keeping with Winship's initiative to expand and improve innovative clinical trials, a new Phase I unit is opening on the fourth floor of the Emory University Hospital Tower. Lewis says the new space is ideal for the collaborative work they do and was designed that way by the people who will use it most - patients, nurses, research staff, and physicians.
---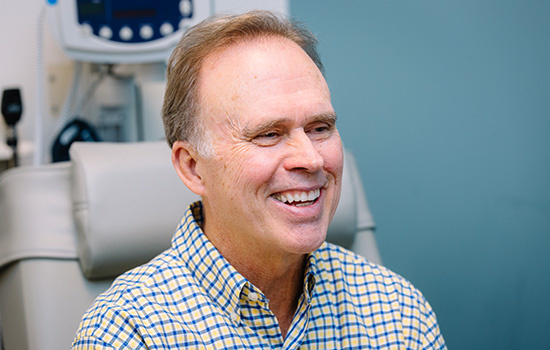 William Paine was diagnosed with an aggressive type of bladder cancer in 2013. The first Phase I trial he was on did not slow down the cancer, so he went on a second Phase I clinical trial in 2015. "My wife wouldn't give up and Winship wouldn't give up on us. After four months of being on the drug, I was cancer free and I've been on it ever since."
---
This spring, a team spent weeks together sketching out floor plans, drawing up lists of "hopes" and concerns, and then saw their ideas transformed into a life-size 3-dimensional model built of cardboard. They ran clinical scenarios in the cardboard model and tweaked the design so it provided good work flow and incorporated details like where to put electrical and USB outlets so they would be convenient for patients and family members.
"We sat in the chairs and made sure the outlets could be reached without standing up or leaning down, which could be a danger for a patient who might be lightheaded," said Katherine Wright, clinic operations administrator.
Winship inaugurated its first dedicated Phase I clinical trials unit in October of 2009. Nestled in a self-contained corner of the ambulatory infusion center in the Winship building, the Phase I unit didn't look much different from the rest of the infusion center: same chairs and furniture, same curtains, same IV poles. But the experience and culture were very different.
---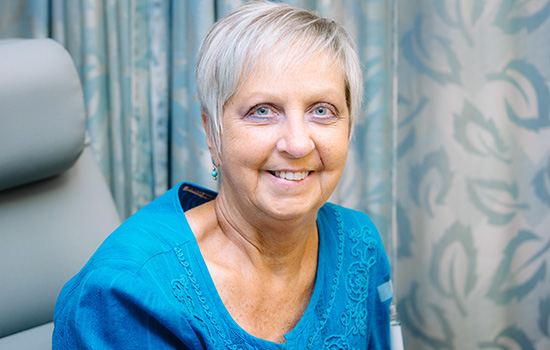 "When I first started the trial, I was nervous because it was a new drug. But this has been easy-going. I jokingly call it my spa day. I put my feet up, get a warm blanket, talk to my friends, read, watch TV." Angela Bradley has been on a Phase I agent for multiple myeloma for almost ten years.
---
Because many of the side effects of a new treatment are unknown, a Phase I patient's vital signs are checked constantly. Medical staff document every nuance of the patient's experience and must be ready to respond to unexpected reactions. That means the space must provide clear sight lines and easy access to every patient. And because patients spend long periods of time in the unit, their comfort and the comfort of their caregivers is vital. The new space, triple the size of the old unit, was designed to be both patient-focused and able to support the painstaking demands of rigorous clinical research. The process of involving care teams and patients in the design proved so successful, it's been replicated in other construction projects in the Emory Healthcare system.
"This was very much from a ground up perspective - who's doing the work, what works, what doesn't, what can be improved, and how they would like to do it in the future with a new space and a clean slate," says R. Donald Harvey, director of the Winship Phase I Clinical Trials Section.
Lewis says the new unit is the culmination of the entire team's efforts. "This is a cutting-edge research unit for patients in Georgia and across the country. Our patients are going to love the changes we've made."
---
Winship's dedicated Phase I Clinical Trials unit is tripling in size as it moves to a new space in the Emory University Hospital tower. A multi-disciplinary team worked hard for weeks on floor plans that were turned into a life-size cardboard model of the proposed unit. They tweaked the model to get it right, before construction started.