Paying It Forward!
Celebrating Winship's tradition of mentorship.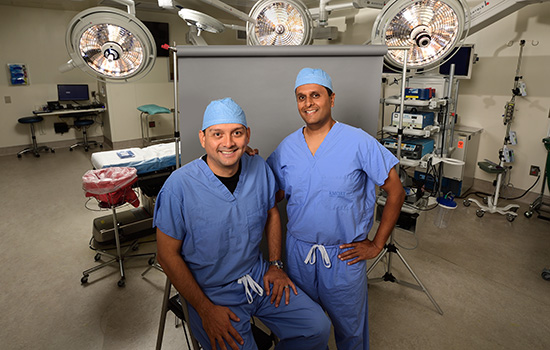 Many young Winship physicians and scientists did their medical education, residency, or training at Emory and were deeply influenced by their mentors. They are grateful to the people who taught them and helped guide their careers, but mentors say they got as much out of the experience as the mentees. Here are a few of those who share that unique relationship.
Kenneth Cardona, Shishir Maithel
Kenneth Cardona (above left), surgical oncologist specializing in sarcomas and complex gastrointestinal malignancies, did his surgical residency at Emory under the mentorship of Shishir Maithel (above right), professor of surgical oncology and a specialist in liver cancer and cancers of the pancreas, stomach, colon, and small intestine. They hit it off immediately and have been close colleagues and friends ever since. "Shishir provided guidance in all aspects of my career—my research, my clinical interests, and personally as well. I say mentor but I'd honestly say friend," says Cardona. Maithel says he recognized similar professional passions in Cardona, even completing the same fellowship leading up to their current positions: "We're so much alike that when he went to fellowship, my attendings told me 'it feels like you're back.'" Both agree that in a profession that's busy and stressful, a strong relationship like theirs "can make it all bearable."
---
Jean Koff, Christopher R. Flowers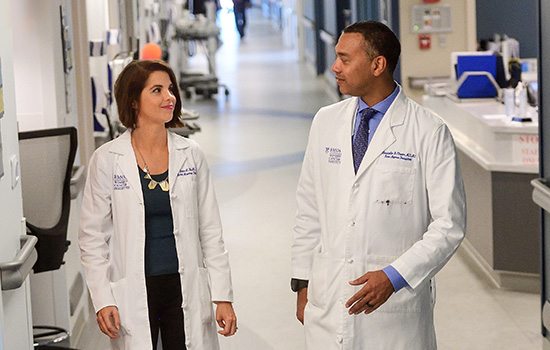 Jean Koff (left), instructor in hematology and medical oncology and clinical investigator in the Bone Marrow and Stem Cell Transplant Center, came to Emory for medical school and "never left." During a research fellowship, Christopher R. Flowers (right), professor and director of the Emory Lymphoma Program, inspired her to do epidemiological and outcomes research. "He's given me guidance on big picture issues, career development, work/life balance, down to the smallest nitty gritty paragraphs for a grant," says Koff. Flowers says being a mentor has given him great satisfaction: "One of the most rewarding things is to see your mentees succeed early on in their career. It's even more rewarding than some of the successes I've had in my own career."
---
Natia Esiashvili, Shannon Kahn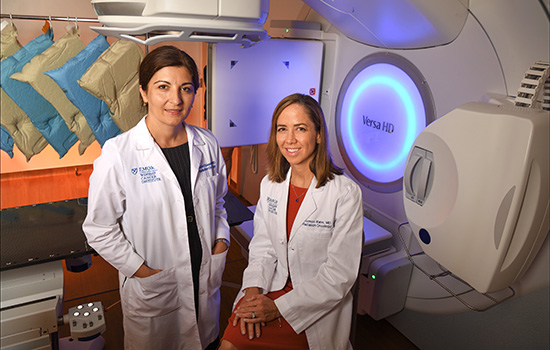 Shannon Kahn (right) made a radical career change from accountancy to medicine. As a medical student and resident at Emory, she trained under Natia Esiashvili (left), who leads the pediatric radiation oncology service at Winship. Kahn says Esiashvili's mentorship was a turning point: "Dr. Natia was inspirational, she was a strong woman with ambitions, extraordinary patient care, very well accomplished, and also a mother. It was wonderful to see all of that in one person, in a field I loved." Kahn is now medical director of the radiation oncology department at Emory Saint Joseph's Hospital. Esiashvili values how their relationship has evolved into a partnership. "You learn from each other. At this point in our careers, we're peers and both in leadership positions. Learning and growth never ends at any phase of a career."
---
It takes years of specialized training, intense study, and hands-on experience to become an oncology doctor or researcher. Those who go through it know they are standing on the shoulders of those who went before.
---
Kate Yeager, Deb Bruner, Jinbing Bai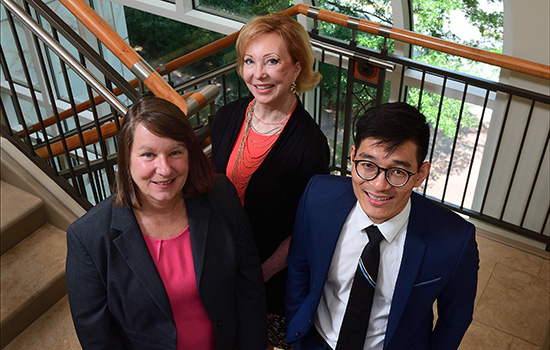 Deborah W. Bruner (center), longtime Winship member, was recently appointed as Emory University senior vice president for research. As a professor, Bruner has mentored many students and trainees in Emory's Nell Hodgson Woodruff School of Nursing.
Kate Yeager (left), assistant professor in the School of Nursing, had just graduated with her doctoral degree from Emory when she met Bruner. Bruner guided her as she launched her research program in symptom management in cancer. "A mentor connects you to opportunities. Sometimes it feels you are being pushed off a cliff, but your mentor has a sense of what you can do and what you need to do to advance your career. And she's there to help support you when you don't quite land on your feet."
Jinbing Bai (right), nurse scientist mentored by Bruner during postdoctoral training and now an assistant professor in the School of Nursing, says Bruner helped him take small steps toward his long-term career goals: "A good mentor always helps his mentee to expand his strengths and overcome his weaknesses. A good mentor listens, understands, supports, and solves problems with the mentee."
---
Sagar Lonial, Nisha Joseph, Ajay Nooka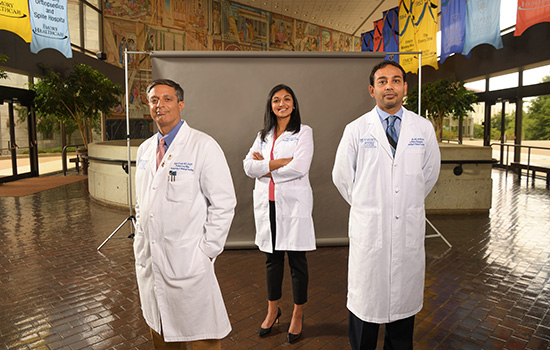 Sagar Lonial (left), chair of the Department of Hematology and Medical Oncology and Winship chief medical officer, started the multiple myeloma program at Winship in 1997 and has built a team recognized for its pioneering research and treatment of myeloma. Ajay Nooka (right) completed a fellowship under Lonial and is now an associate professor, clinician, and researcher: "I was thoroughly impressed by his leadership qualities and the amount of work he put into drug development and clinical trials. He was someone I looked up to." Wanting to pass on what he learned, Nooka became a mentor to chief fellow Nisha S. Joseph (center), who was awarded the inaugural Hanna Jean Khoury Special Fellowship in Leukemia and Transplantation and is now an instructor. "I started working with Dr. Lonial and Dr. Nooka when I was a resident and it was because of their guidance and the opportunities they gave me that I even went into hematology. That I have continued in myeloma many years later speaks to the importance of mentorship."