Marking Milestones
From the Executive Director
By Wally Curran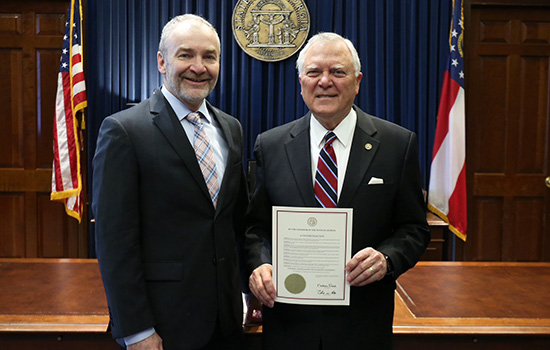 In January, I quietly marked my 10th year at Winship Cancer Institute. I don't usually celebrate work anniversaries, but I can't help think about how far we've come since that first day when I walked in the door in 2008. I started as professor and chair of the Department of Radiation Oncology, and in 2009, I was named Winship's executive director. That same year, Winship received its first cancer center designation from the National Cancer Institute (NCI). This was the culmination of years of hard work by my predecessors. The designation accelerated the elevation of Winship's stature nationally, in the community, and on Emory's campus.
Earning the NCI's prestigious comprehensive cancer center designation last year is an even higher achievement. There is no other institution of its kind in the state of Georgia, and Winship is one of only 49 such centers in the U.S. You can imagine that I was very proud and excited to meet with Governor Nathan Deal at the statehouse recently and to receive a special commendation on behalf of Winship. His support and that of our state representatives and congressional delegation in Washington have been vital to our success and progress.
Talking with the Governor reminded me about how much ground we've covered in the first year of our comprehensive designation. Winship first opened its doors 81 years ago, and we treated 168 patients in the first year of operation. Each year we now see more than 17,000 newly diagnosed cancer patients, and Winship has become the state's epicenter of cancer research, education, and patient care. Every day, our Winship clinicians and researchers are making a difference here and around the world in helping to prevent and eradicate cancer as we know it. Those accomplishments are worth celebrating.
Milestones, designations, and commendations are important. They recognize hard work and achievement. They acknowledge contributions for the greater good. They boost our reputation and raise our profile. Ultimately, they are a keen reminder of where we've been and where we are heading.