Making Cancer Immunology a Priority
Winship puts cancer immunology front and center.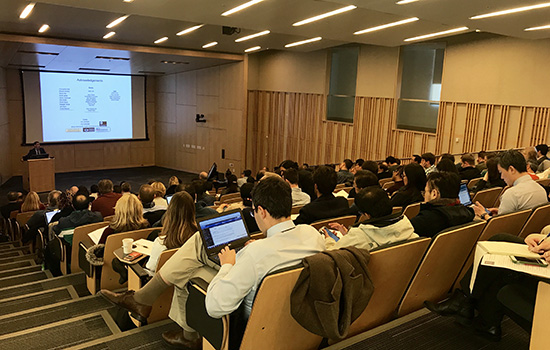 Enormous momentum is building in the race to develop new and better therapies that engage a patient's immune system to fight cancer. The momentum is evident at Winship, where a sense of urgency is fueling basic, translational, and clinical research in immunotherapy. Scientists from across Emory gathered at the beginning of 2018 for the first annual Winship Cancer Immunology and Immunotherapy Retreat. Participants gave brief presentations and discussed emerging areas where Emory has the expertise to lead research and delivery of immunotherapy.
"I am excited to be here to help realize Winship's potential to be a leader in this area of cancer research."
- Madhav Dhodapkar
In March, the arrival of Madhav Dhodapkar heralded a new level of commitment and energy for cancer immunotherapy research at Winship. Dhodapkar, a world-renowned expert in the field, joined Winship as the director of the new Winship Center for Cancer Immunology.
"Immune-based approaches are already transforming cancer care and hold even greater potential for the future of cancer therapy," said Dhodapkar.
Winship and Emory were at the forefront of scientific discoveries that led to checkpoint inhibitor immunotherapy drugs approved in the last few years and now being tested in combination with other therapies. The latest immunotherapy breakthrough is something called CAR T-cell therapy, which involves collecting a patient's white blood cells and engineering them to recognize and respond to specific cancer cells. Winship has run clinical trials in CAR T-cell therapy and is now treating patients with non-Hodgkin lymphoma with the newly approved drug axicabtagene ciloleucel (trade name Yescarta).