From the Patient's Perspective
They know what it's like to get through cancer treatment, so their advice rings true.
By Catherine Williams, Photography by Ann Watson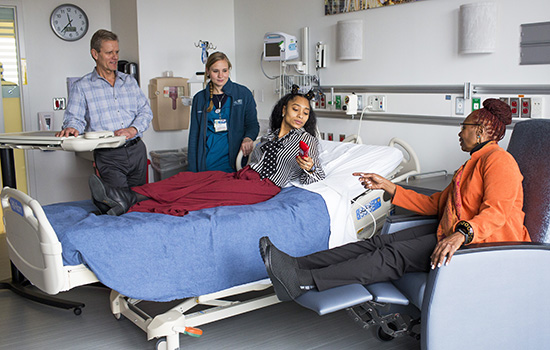 You learn a lot as a cancer patient, or as the caregiver for a cancer patient. You learn about yourself, about the medical system, about humanity. It's a humbling experience, and many people understandably just want to put it behind them, but others want to make use of the knowledge.
When Bari Ross was being treated for head and neck cancer in 2009, a volunteer wheeled the snack cart over to where she sat in the radiation clinic waiting room. The cart had cookies, chips, candy, granola bars...nothing that Ross could swallow. Even liquids were tough going down.
A week later, Ross was back in the waiting room, and the same volunteer came around again. This time, she had a bottle of Ensure on her cart, just for Ross.
"She listened, and acted. A simple step made a difference for me, as it has for many others," says Ross.
The volunteer was Julie Whitehead, a former patient who became not only a Winship volunteer, but also a Peer Partner and a Patient & Family Advisor (PFA). She recruited Ross to join her, and today Ross is chair of the PFA Council and a tireless volunteer herself. Julie Whitehead, who passed away recently (see below), was an exceptional example of an exceptional group of people.
Being a PFA is a unique role, separate from other kinds of volunteer work, like taking the snack cart around the clinics. There are about 175 PFAs across Emory Healthcare, and 20 of them are Winship PFAs. Their main purpose is to represent the patient perspective to the many clinics, departments, and committees that determine how the health system runs, including senior management strategy meetings. They know what it's like to be a patient, they've been there and struggled through it, so the advice they give to leadership, health care staff, and administrators rings true.
They advise on everything from staff morale to how a waiting room should be furnished. They try out new infusion chairs, help orient new employees, brainstorm on improving the scheduling process. They provided backup for the check-in staff in the new lab draw area when it first opened. They also advised architects and designers of the new Emory University Hospital tower on what room configurations and furniture would be most comfortable and convenient for patients and family members.
Lex Gilbert has seen the Emory Healthcare system from many angles: as a colorectal cancer patient, as a clinic employee, as the wife of a Parkinson's patient, and as a committed PFA and Peer Partner. She says she has the right temperament to be an advisor. "I'm not going to sit silent. I'm a blabbermouth!"
"I can't wave a magic wand and fix the problem, but I can get the information to the right people who can fix it."
One of Gilbert's memorable contributions as a PFA was when she helped stage an informal award ceremony for staff in the radiation oncology clinic. She says it was a lighthearted way for employees to recognize colleagues for some of their unheralded talents, such as being ready for anything, or having an iron stomach.
Gilbert says she's motivated to volunteer her time by having been treated well as a patient and the need to give back. "If I've got the energy and time, I'm going to do it."
---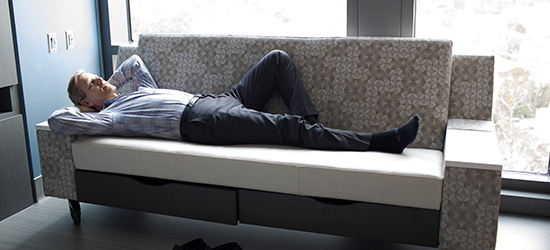 Ed Steinman tries out a new convertible couch.
---
Ed Steinman's mantra is "tell me what I can do to help." He's been a committed advocate for Winship patients ever since his wife, Lory Macrate, was diagnosed in 2011 with multiple myeloma. He spent 21 days sleeping on the couch in his wife's hospital room when she had a stem cell transplant; he accompanied her to every blood draw, doctor's appointment, and treatment for the several years it took for her condition to stabilize. She's doing well, and Steinman is still at Winship, serving on the Winship Advisory Board and on the PFA council as co-chair. He sees himself as a conduit between the two groups, relaying concerns and communicating "so we don't duplicate each other's efforts." Although he knows how upsetting delays and glitches in the system are in a patient's life, he says he's seen changes since he's been here: "Winship does listen. Emory does listen.
"I'm so impressed by everything at Winship, and I want to encourage and be a part of it."
---
Julie Whitehead 1958 – 2018
Winship patient, volunteer, Patient & Family Advisor, Peer Partner
Longtime Winship volunteer Julie Whitehead passed away on Jan. 24, 2018 after a recurrence of cancer.
Julie Whitehead was inspired to volunteer at Winship following her initial cancer diagnosis more than a decade ago. She logged more than 1,600 volunteer hours and was recognized for her exemplary service, teamwork, and a commitment to public good when she won the Robert L."Bobby" Rearden Spirit of Winship Award.
"Julie was dedicated to making the patient experience at Winship the best it can be," said DaVida Lee-Williams, director of Guest & Volunteer Services. "We all miss her."
Some reflections on Julie from people she worked with and cared for:
"Ms. Julie, you touched so many lives through your generous and compassionate heart...Julie brought a light all throughout Winship & she spread her joy everywhere she went...Julie was so dedicated and unsparing in her efforts...I loved her passion and energy for Winship and its patients...Julie was a wonderful, caring person who brought comfort to so many people...I am going to miss her more than words can express."