Left Brain-Right Brain
When they're not in lab coats and surgical scrubs, some of Winship's most analytical minds also excel in the arts.
By Catherine Williams, Photography by Jack Kearse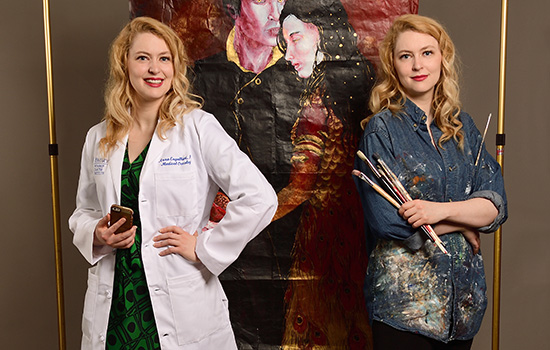 You might think you're looking at sets of identical twins. Take a closer look. We know them by their white coats, surgical scrubs, stethoscopes, or research labs, but some of Winship's most analytical minds also excel in the arts. Winship people prove that creativity can spring from the same scientific minds that do cancer research and clinical care.
---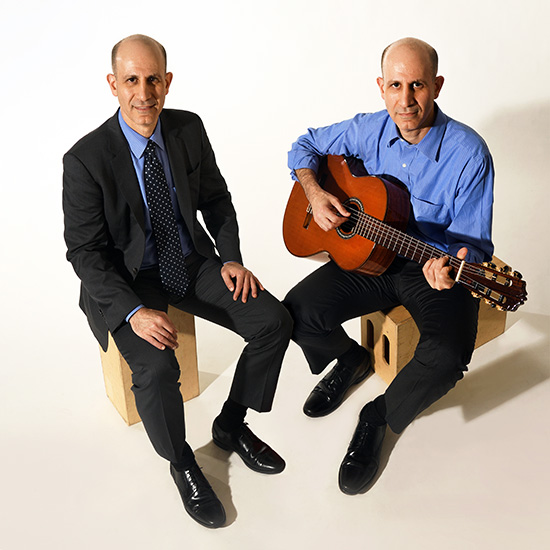 DAVID KOOBY:
Surgical oncologist
As an international leader in pancreatic and liver surgery, David Kooby spends many hours caring for patients in the operating room. One of the ways he relaxes is by playing guitar. While his rock and roll days are not completely over, he's developed a passion for classical and Spanish guitar. An advantage of playing in these styles, he says, is that he doesn't have to sing. He mostly enjoys playing music with his family.
---
ANNE ENGELHART:
Nurse practitioner
Anne Engelhart is a vital member of Winship's lung cancer team, but equally committed to her art. In college, she double-majored in art and French and spent a year studying at the Institut Catholique de Paris. In the photo at the top of this page, she is standing in front of "Hades & Persephone," which she painted on the back of a Paris Metro poster...art supplies are pricey when you're a student! Today she can afford canvas for her artwork, but remembers her days in Paris with great passion.


---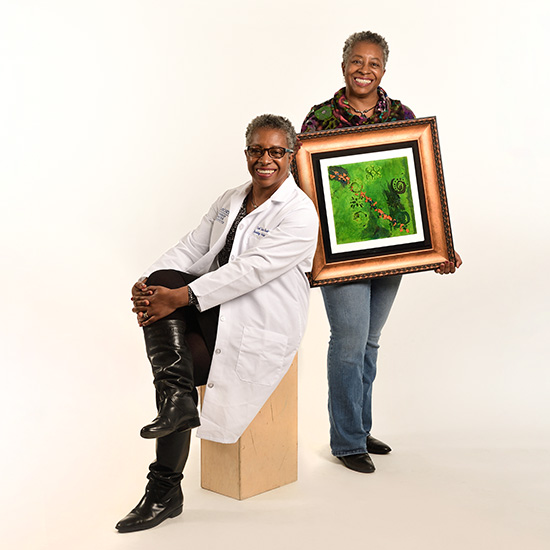 CAROL TUCKER-BURDEN:
Lab manager
Collage is an apt medium for Carol Tucker‑Burden's many artistic interests. Manager of the Marcus research lab, Tucker-Burden also dances, plays music, and sometimes paints. After winning a grant from the Emory Sustainability Project in 2016, she produced three collages made with recycled lab objects: pipette tips, printer ink cartridges, and plastic filter panels to name a few. She's pictured here with "Whimsical Array," one of her collages seen every day by lab researchers who frequent the breakroom where they hang.
---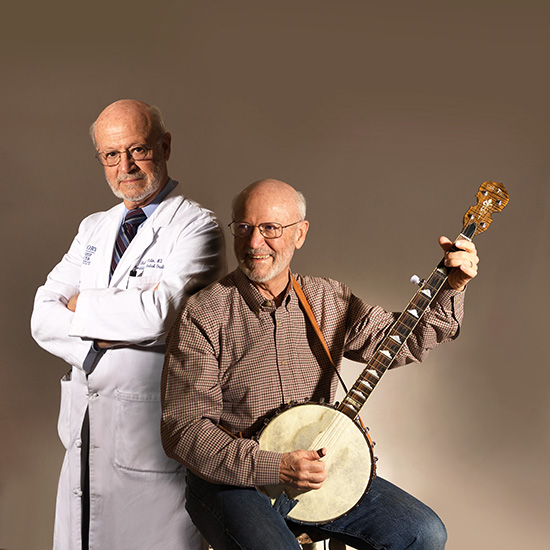 ELLIOTT WINTON:
Hematologic oncologist
Elliott Winton started his career at Winship in the 1970s, researching and treating blood disorders like acute myeloid leukemia, and co-founding the Bone Marrow Transplant program.
His love affair with the banjo also goes back a long way. He picked up the banjo as a college student, inspired by folk musicians like the Weavers and Bob Dylan. He bought his first banjo and a Pete Seeger instruction book and was hooked.
Some years back, he says, his family gave him banjo lessons because "they got tired of hearing me play the same five songs." For years, he's gotten together every week with a group of musicians (mandolin, fiddle, trumpet, but he's the only banjo player) to play everything from standard bluegrass to contemporary music. He says it's a chance to be creative in a different way from his work and he leaves the weekly sessions energized. He keeps a banjo in his office and occasionally plays when he's working late...or when someone has a birthday.