The Winship Way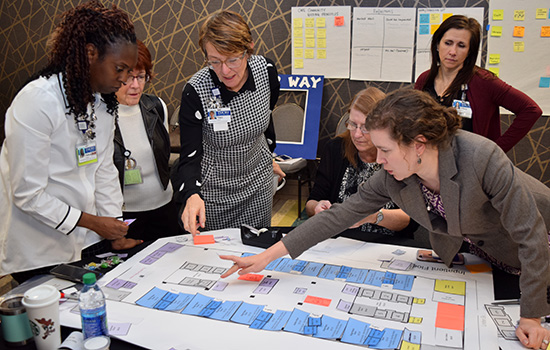 It's called integrated facility design, or IFD, a wonky name for a very dynamic process that's changing the way Winship is building and renovating its facilities. IFD was used to design the new Phase I Clinical Trials Unit and the new head and neck cancer clinic at Emory University Hospital Midtown. It's being used to renovate clinic spaces within the Winship building on the Clifton Campus, and it's been initiated on a grand scale for the new Winship at Midtown facility that will break ground next year.
Implementing the IFD process is part of The Winship Way, a project that takes a fresh look at cancer care, with an eye toward better integration and streamlining of services, while delivering innovative research-based treatment and individualized care.
IFD involves patients and families, physicians, nurses, hospital administrators, and staff in planning and designing spaces that create the best possible experience for the patient. The process begins with a day (or days) of reckoning: what are we doing now and how do we make it better?
Teams of stakeholders are brought together and armed with poster board, post-it notes, markers, and colored string. They set to work figuring out floor plans that break down silos, put the patient at the center of the work flow, and eliminate wasted movement and wasted human potential.
"We're building on the strength of our own people to create environments that allow them to do what they do best, and that is to care for patients," says Melissa Childress, vice president of cancer services. "Their enthusiasm for this process is exciting."
In the Winship building, the second floor patient clinics are being expanded and renovated, and the ambulatory infusion center on the plaza level is being reconfigured to create a new pharmacy and to make the overall environment more pleasant for both patients and staff.
The new Winship at Midtown facility is still in the planning stage, which includes building life-size cardboard models of the new spaces and test-driving them. More to come on that project.