The Team Approach
Collaboration is the key in attacking head and neck cancer in kids
---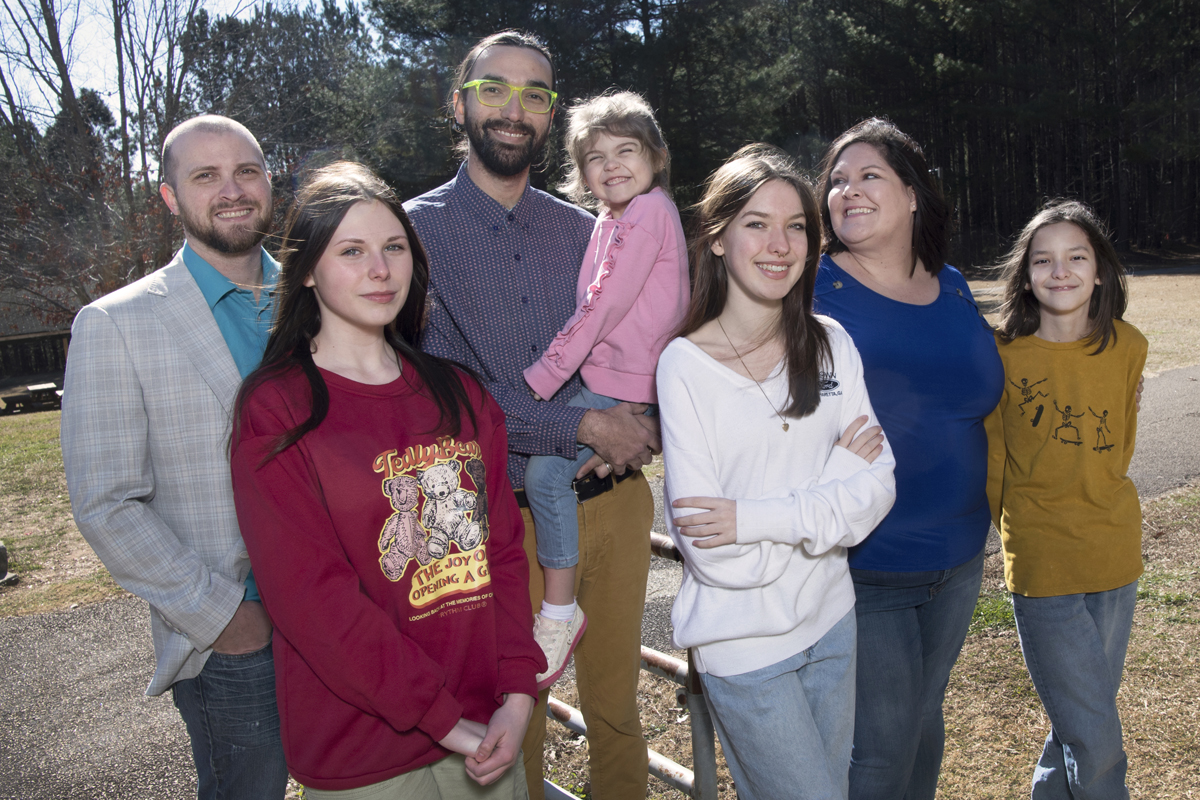 The moment she walked through the front door that August day in 2020, Maggie Long could tell something was wrong. It was the mood in the house. "Dark and dreary," she says. "Heavy."
Her parents sat there on the couch. "I could tell she'd been crying," says Long, 17, after seeing her mother's eyes. "They were like, 'sit down.' Then it took Mom a second, but she told me, 'Your biopsy came back. It's cancer."
Long was diagnosed with mucoepidermoid carcinoma, a type of salivary gland cancer. It showed up a few months earlier as a burning bruise on the roof of her mouth, then it took a few biopsies to clarify exactly what was going on, "and it became a high-speed chase after that," says Long's mom, Ashleigh Thurman. "Everything went into motion."
That's how they landed in the collaborative care of Winship Cancer Institute's Head and Neck Oncology Surgery Center at Emory University Hospital Midtown and Children's Healthcare of Atlanta. Those care centers, along with the Emory Proton Therapy Center, have turned the Atlanta area into a hub for the treatment of rare pediatric head and neck cancers.
"These solid tumor cancers are very unusual in children," says Kara K. Prickett, MD, a pediatric otolaryngologist at Winship and Children's and associate professor in Emory University School of Medicine. "That's where the collaboration between Emory and Children's is so important – we can bring in experts from the adult world who are used to dealing with these more complex tumors." When a patient like Maggie Long shows up in her office, Prickett becomes like a quarterback for the care team. Experts from Emory and Children's form a tumor board and together with the patient's family develop a treatment plan. They need experts from the adult world in the room.
"There aren't enough kids with these types of cancers to form a routine protocol treatment, so it requires a multidisciplinary team. The Emory docs who work with adult patients are a big benefit for us and our young patients," says Winship and Children's pediatric oncologist Sarah G. Mitchell, MD, an assistant professor in Emory University School of Medicine.
The resources, when you bring them all together, are formidable, she says: radiation oncologists, Children's surgeons, Emory reconstructive surgeons, psychologists, nutritionists, usually an oncologist like Mitchell or surgeon like Prickett running point, not to mention social workers, school teachers, "comprehensive care, because that's what a lot of these families need," Mitchell says.
"The resources, when you bring them all together, are formidable . . . comprehensive care, because that's what a lot of these families need."
In Maggie Long's case, the emphasis was on extensive surgery, which took more than 10 hours. Prickett removed the tumor then, which is typical in this kind of procedure, she gave way to another surgeon, Mark W. El-Deiry, MD, director of Winship's Head and Neck Surgery Center, where he treats predominantly adult patients.
"You need someone with technical proficiency and expertise in reconstruction," Prickett says.
El-Deiry played a key role in forming what he calls, "this ad hoc pediatric head and neck cancer center. It began with some forward-thinking oncologists who realized that we could combine all our expertise and knowledge. It became readily apparent that children who went through that collaborative process were better off in terms of clinical treatment."
Before the Children's solid tumor program existed, five or six years ago, "a lot of these kids weren't offered surgery as a treatment because the presumption was that it would be too disfiguring or too compromising," Prickett says. "They were just treated with chemotherapy and radiation, even if that was not the ideal treatment."
For patients who do need radiation therapy, the Emory Proton Therapy Center, which opened in 2018, offers a high-tech treatment option that is particularly important for patients with head and neck cancers.
"Proton therapy reduces the radiation exposure to normal, healthy tissues and organs in the area we treat," notes Bree Eaton, MD, Winship's pediatric medical director at the proton center and an assistant professor of radiation oncology at Emory University School of Medicine. "And that reduces side effects, which is really critical when you're talking about that part of the body, where a lot of tissues and organs are still developing in a child."
When discussing her treatment plan, Maggie Long was given a choice. She decided against radiation. Fortunately for her, the surgery seems to have done the job. She had what Prickett describes as, "a relatively simple tumor in a complicated place."
After Prickett removed the tumor, El-Deiry performed a free tissue reconstruction, surgically removing tissue and blood supply from Long's left arm and transferring it to her mouth.
"Now she has a cool looking scar on her arm, a tiny scar on her neck, and the roof of her mouth looks better than yours or mine," says Thurman.
A year after the procedure, Long was immersed in her life, considering going out for the track team at school and charting a new course. She'd always dreamed of working for Disney, an artist designing attractions for their theme parks. Now she wants to be a nurse.
"This whole experience influenced me a lot," she says while sitting at her drawing table one evening. "I saw how my nurses were. Patient, kind, wonderful, and I thought, 'This is what I want to do. This is what I need.'"