---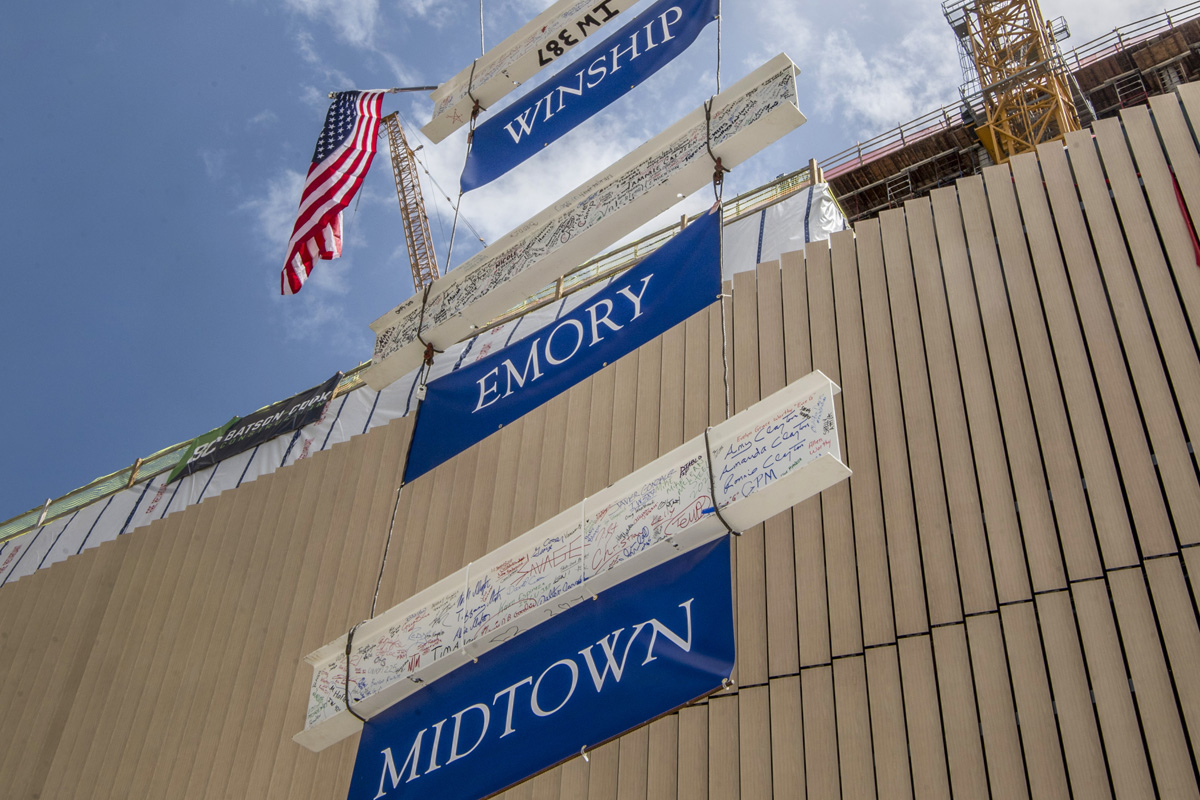 Winship at Emory Midtown took a major step toward revolutionizing cancer care in Georgia and beyond when Emory University Hospital Midtown and Winship Cancer Institute of Emory University on August 26 celebrated the 17-story building under construction with a traditional topping out ceremony at the site.
When Winship at Emory Midtown opens in 2023, the 450,000-square-foot facility will represent a dream fulfilled. It embodies Winship's vision of providing personalized care, leading-edge cancer treatment, routine testing and other services at the patient's own bedside.
Winship Executive Director Suresh S. Ramalingam, MD, FACP, FASCO, in remarks at the event said, "The most advanced scientific teams providing care, all the resources and support staff that are necessary to help patients treat their cancer will happen right at their bedside." He added, "That's the transformative care model that's going to happen in this building — the Winship Way, as we call it."
The topping out ceremony is a traditional event to mark the placement of the last steel beam at the highest point of a building. In this case, three steel beams—after making their way across Winship's facilities for faculty, staff and patients to sign them — were lifted by a crane to the top of the new building. The beams were topped by the traditional construction "Christmas tree" to symbolize good luck for the building's future occupants and continued growth and to celebrate an important achievement.
Also speaking at the topping out event, Dan Owens, CEO of Emory University Hospital Midtown, offered a brief history of the building project. "We had a dream of building a facility for over a decade," he said. "About four years ago that dream became clear as to what we should build on this campus." Owens said the vision was a "never seen or imagined" state-of-the-art facility cancer center "that could bring revolutionized cancer care to not only the citizens of Atlanta and the state of Georgia but regionally and internationally."
"We had a dream of building a facility for over a decade. . . a never seen or imagined state-of-the-art facility cancer center that could bring revolutionized cancer care to not only the citizens of Atlanta and the state of Georgia but regionally and internationally."
To make the dream a reality, Owens said, "obviously we needed money—and a lot of it." Winship at Emory Midtown is made possible by a generous gift from the Robert W. Woodruff Foundation — the largest ever received by Emory University — of $400 million, with half of it dedicated exclusively for the new cancer care facility in Midtown Atlanta.
Looking back over the two years since breaking ground on Winship at Emory Midtown, Sheryl Bluestein, vice president of operations for Winship at Emory University Hospital Midtown, recounted the many people whose perspectives were sought and included in conceptualizing and designing the futuristic cancer hospital. "More than 200 key stakeholders," she said, "including frontline staff, physicians, patient and family advisors and so many others, have spent countless hours planning for every element of the tower to ensure the optimal experience for patients and care team."
With the tower construction well underway, Bluestein said the focus now is on purchasing cutting-edge technology and furnishings for its interior, as well as recruiting exceptional staff to care for patients in what she called "our new care model, where patients are at the center of our multidisciplinary clinics in a disease-specific care community."
Lee Williams, project manager for CBRE Healthcare, the company overseeing construction of Winship at Emory Midtown, spoke about the new hospital in terms that folks in the building business don't always use to describe a project. "I knew this was a special project," he said. "I've been calling it 'once-in-a-career.'"
He added, "Over the last three years it has exceeded my already high expectations. The level of sustained involvement and engagement by the Emory Winship team and our project team (SOM/May, Batson-Cook) has been remarkable."
Williams provided a sense of the place Winship at Emory Midtown will occupy in Atlanta and Georgia, and beyond, in an anecdote he shared with the project executive steering committee. In an October 12 meeting that included more than 200 tradesmen and women—held in the loading dock of the Winship at Emory Midtown building — attendees were asked to speak up about anything on their mind related to safety. One worker spoke up about the importance of keeping ductwork covered to prevent contamination — something stressed during quality control inspections in health care facilities.
"Usually," said Williams, "the concern is that the vendors will incur extra cost and time for having to clean the ductwork after it's installed. This man emphasized that this procedure has extra importance to provide protection for the patients and visitors that will be entering this facility." He added, "I've not heard a comment like this from boots on the ground in a long time. These men and women know what they're creating will be special, and are approaching their work every day with care and concern for those that will inhabit Winship at Emory Midtown long after construction is complete.
Share This Story