---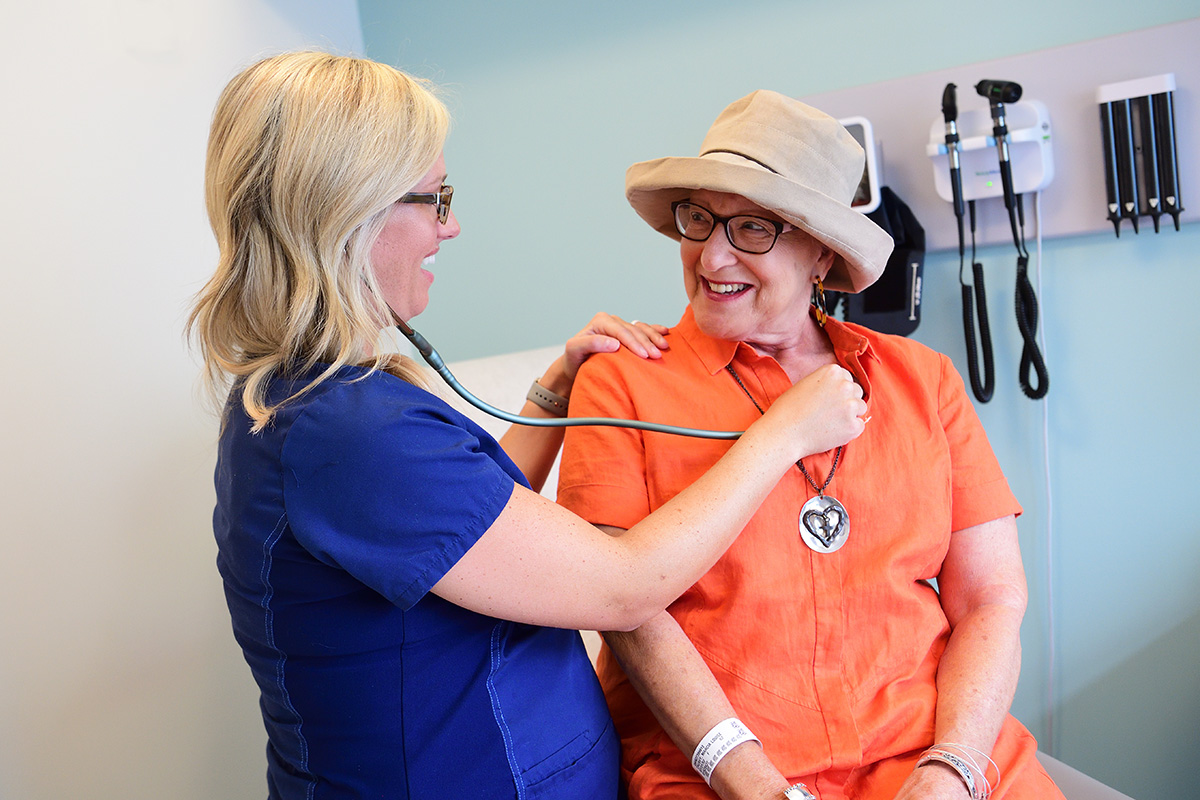 Everyone's cancer journey is different, and yet patients describe similar feelings–the stomach-dropping moment of hearing a cancer diagnosis, the roller coaster ride between hope and despair, the intense gratitude they feel for those who care for them.
This photo essay was shot in some of Winship's outlying clinics. In paying tribute to people who deliver great care, we want to show where hope lives.
Emory at Buford
Nurse: Caitlyn Ciochetti
Patient: Marcia Causey
"If I can help one person by saying one positive thing about my stage IV life changing experience it will be worth it."
Tuesdays are Marcia Causey's "special" days, when she goes to the Winship at Buford clinic and sees nurse Caitlyn Ciochetti, who's taken care of her since her ovarian cancer diagnosis in 2017. "John (husband) gets me coffee, I see Caitlyn, I have a little cry, and then we get on with it!" She says her team at Buford go above and beyond to help her. "I try to have a smile because so many with cancer have it so much worse than me! My goal is to help others dealing with cancer. It is not always a death sentence and it makes every day count. Never give up."
---
Emory Saint Joseph's Hospital
infusion nurse: Debbie Yang
Patient: Kewanna Royster
When Kewanna Royster was about to start chemotherapy treatment for breast cancer in August 2018, she asked for a very special kind of person to be her nurse–someone who is patient, someone who would smile even when it was grim, and most important, someone who believes in God and would pray with her. She found all that in Debbie Yang. Royster says Yang has built her hope back up. Their shared spirituality gives them a special bond, inspiring them to pray together over the chemo drugs, and Royster says "Debbie sees me through God's eyes." Debbie Yang returns the love: "You make me feel valuable."
---
Emory Saint Joseph's Hospital
Radiation therapy technologist: Michele Rutherford
Patient: Cordella Samborne Darkin
"It's been rough, a real roller coaster but I'm almost at the end now."
Cordella Samborne Darkin was diagnosed with breast cancer a year ago. She underwent chemotherapy, lost her hair, and then started radiation therapy. She says the radiation staff go out of their way to make her comfortable, but she has a special bond with radiation therapist Michele Rutherford, who lifts her spirits by wearing pink scrubs, Darkin's favorite color. "It's been rough, a real roller coaster but I'm almost at the end now." And, she's happy that her hair is growing back.
---
Emory Johns Creek Hospital
Nurse: Tony Zanardo
Patient: Kirk Stephens
Kirk Stephens says his care team at Emory Johns Creek Hospital has become family to him and his wife, Jennifer, as he's undergone 40-plus rounds of chemotherapy as well as radiation therapy. Infusion nurse Tony Zanardo has cared for Stephens from day 1 when he started treatment for stage IV colon cancer. The Cumming native says the team's personal touch has helped pull him through: "These people are amazing. Tony even calls me after hours if needed. I can't imagine what it would have been like without that care."
Share This Story