From the Executive Director
How far we've come in 10 years
Winship's leadership role in advancing cancer research.
---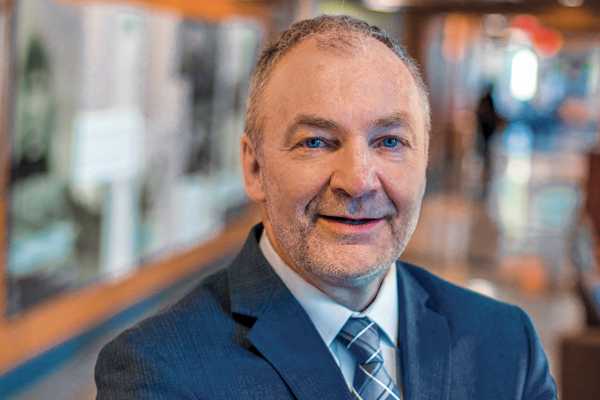 September marked my 10th anniversary as executive director of Winship. Winship had just received its first designation from the National Cancer Institute (NCI) in 2009 when I took the helm. Since then, Winship set its sights on attaining the NCI's highest designation. In 2017 we did it, becoming Georgia's first and only NCI-designated comprehensive cancer center.
We've gained tremendous knowledge and momentum from discoveries that are changing the way cancer is prevented, detected, and treated.
Looking back over the last 10 years, what strikes me is not just how far Winship has come, but how far cancer research itself has come. We've gained tremendous knowledge and momentum from discoveries that are changing the way cancer is prevented, detected, and treated.
Lung cancer is a perfect example. Ten years ago, there were few effective treatment options for patients with advanced lung cancer. A stage IV lung cancer diagnosis often meant a poor quality of life over a severely limited life span. But in the past ten years, two research developments—immunotherapy and targeted therapy—have led to treatments that help lung cancer patients live years longer with better quality of life. Winship investigators have been at the forefront of both developments.
In 2009, Winship physicians were among the first to analyze lung cancers with molecular panels that identify specific genetic mutations. Today, many Winship lung cancer patients are effectively treated with drugs that target their particular genetic mutation. The other area that has changed lung cancer treatment is the development of immunotherapy drugs, including those known as checkpoint inhibitors. Now, Winship investigators take on the challenge of making these therapies even more effective.
This year, the NCI awarded a $9.7 million Lung Cancer SPORE (Specialized Program of Research Excellence) grant to Winship, with the goal of improving outcomes of lung cancer patients by addressing current challenges, such as drug resistance, and by developing the next generation of therapeutic strategies. This grant reflects Winship's nexus of top lung cancer researchers in basic science, translational research, and clinical research, but it also supports our strength in creating teams of researchers from areas outside of lung cancer, teams who will spark new ways of thinking about this cancer and develop fresh approaches to it. The Winship Lung Cancer SPORE team is made up of researchers from many disciplines at Emory—biostatistics, pathology, immunology, drug development, surgery, genetics, and more.
We've grown in other areas as well. Today, Winship treats patients with proton therapy—a technology that was just getting off the ground in 2009—at our new facility in midtown Atlanta, and we're pursuing practice-changing technologies such as re-engineering immune cells.
Our way of looking at cancer has evolved over a long period of time, but never more dramatically than in the past decade. We see each person's disease as unique, demanding a highly personalized and specific strategy with many tools and approaches. Winship is a vital force and leader in this exciting and rapidly changing world.
Winship by the Numbers
New patients seen per year
Number of clinical trials
Number of Winship members
2009
2019
2009
2019
2009
2019
> 5,000
> 17,000
> 150
> 275
> 260
> 500
For more statistics, see Winship by the Numbers.
Share This Story